Message in a bottle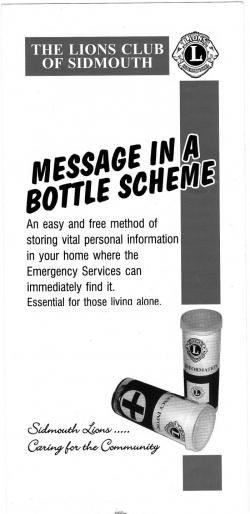 The Lions Club of Sidmouth Message in a Bottle scheme is intended to encourage people to keep basic personal and medical details (such as details of medical conditions, name of emergency contact, details of any pets living in the house) in a known location where they can easily be found in an emergency.
The details are kept in a plastic bottle, which is kept in your fridge door - this is where the emergency services will expect to find it.
You can obtain your pack containing a bottle and associated information from -
Sidmouth Health Centre
Sidmouth Victoria Hospital
There is no cost to the user for the Message in a Bottle scheme. The basic cost of running the scheme is funded by the Lions Club of Sidmouth as one of its charity / community services.
Please note that the Message in a Bottle scheme is not intended to replace Medic Alert or similar facilities.
Return to Lions Helping Others page