Manor Pavilion Concert - 19 February 2011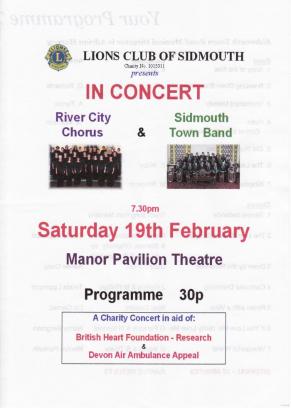 Amazing. Fantastic. We were transported off to another world, with a tear in our eye, by magical performances by Sidmouth Town Band and River City Chorus.
The range of music played by the Sidmouth Town Band is incredible. Their programme went from the emotion of Lionel Richie's "Hello" - including a beautiful plaintive solo - to the haunting melodies of "The Lady of the Fountain", with much more in-between - including music from the shows, a traditional marching tune, and the up-tempo latin rhythms of "Valero".
All of the arrangements captured our attention with changes of rhythm and melody, and interesting percussion - just right, and a joy to hear - and to see all of the members of the band playing their part at the appropriate times was wonderful. A real team effort, of course.
River City Chorus are a group of lovely talented ladies who sing with no orchestral accompaniment, and also no reference to sheet music. Given the complex interlinking of harmonies that characterises their arrangements, this is quite amazing. The beautiful rendition of the songs just seems to come naturally to them - the different singing parts complemented each other in a glorious way, and we were entranced.
They took us from "California Dreaming" to doing the "Locomotion", in our minds anyway, and treated us to many other wonderful songs along the way. A particular favourite was "Breaking up is Hard to Do" - a fantastic arrangement beautifully performed. They told us also to "Dream a Little Dream of Me" - well, breaking up was hard to do when we came to their final song of the evening, and we are dreaming of the next time when we can welcome River City Chorus to Sidmouth.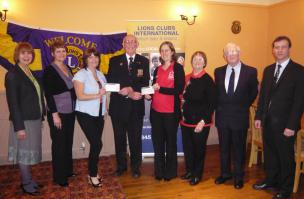 Returning to the Sidmouth Town Band, we were informed that it will soon be 150 years since the formation of the band. Wow! Apparently, the band are considering publishing a book about the history of the band, and making a CD, to commemorate the anniversary. We look forward to those! How lucky we are to have such a very talented band in our town - another reason for living in such a lovely place!
The concert was in aid of the British Heart Foundation and the Devon Air Ambulance Appeal.
Thank you very much to Sidmouth Town Band, to the River City Chorus, to the Manor Pavilion Theatre - and to all of those who attended the evening. We had not far off a full house, so Thank you very much.
Postscript - presentation of cheques
On 15 March, Sidmouth Lions President Ian Skinner met representatives of the Sidmouth Town Band and River City Chorus and formally thanked them for their excellent music and singing - which has enabled Sidmouth Lions Club to donate £500 each to British Heart Foundation (for Research) and to the Devon Air Ambulance appeal for funds to purchase a second helicopter.
The Band was represented by its Musical Director, Adrian Harvey, and River City by its Chairwoman, Sandra Gailans, and Anita Slade. (please see photograph on right)
Sidmouth Lions President Ian then presented one £500 cheque to the British Heart Foundation representatives - Zoe Nicholson, BHF Fundraising Volunteer Manager for Dorset & South Devon, accompanied by John and Jean Lawrance of the BHF Honiton Branch. The £500 donation for the new helicopter was presented to Debbie Collingwood, Community Fundraising Manager of Devon Air Ambulance Trust.
Sidmouth Lions would also like to thank all those who attended this Charity Concert and made these donations possible.