Youth Variety Show - 16 April 2011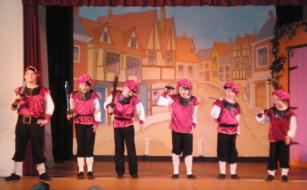 The Sidmouth Herald described this show as a "Spectacular showcase of talented youngsters" and we wholeheartedly agree with that.
The variety and depth of talent was amazing and a joy to watch. From enjoyable short sketches and plays - to delightful dancing - to uplifting band music - to impressive marching routines - to beautiful singing - it was all there.
We feel really lucky to be living in an area where we have such dazzling young people around us. Those taking part in the Youth Variety Show at the Manor Pavilion Theatre were -
"The Newts" drama group (Junior Riverside Players), with highlights from their version of "Cinderella" and also a short play "A Dog's Life"
Funkifeet dance school - a local dance group showing us their dance routines
The 1st Sid Vale Explorer Scouts, with their "Conquistadors" sketch
Annie Dunn with song solos
The Sidmouth Amateur Dramatic Society (SADS) Juniors, performing a playlet "Frying Nemo"
Sidmouth Training Band (the junior section of Sidmouth Town Band) with a selection of numbers
Leonie Motler with song solos
Sidmouth 2019 Squadron Air Training Corps with a marching display
Many thanks for a very entertaining evening to the Variety Show's Director, Tricia Barclay, and to the compère for the evening - well known local charity fundraiser and entertainer, Baz Breadmore. Baz, together with Matt Hillier, also contributed a very funny ventriloquist and dummy act to the show. Also, a big thank you to all the performers for the hard work that they put in to bring this excellent show to us.
And finally, thanks to all of those who attended and supported the local youngsters and this Sidmouth Lions Club fundraising event.