Some of our current and previous year's fundraising events:
AS A CONSEQUENCE OF THE COVID-19 PANDEMIC AND HEALTH & SAFETY CONSIDERATIONS, MOST OF THE CLUB'S FUNDRAISING EVENTS FROM MARCH TO DECEMBER 2020 HAVE HAD TO BE CANCELLED.
Sidmouth Lions normally very much enjoy supporting Santa when he travels around this area, in the run up to Christmas. Unfortunately, because of the ongoing pandemic and the associated health and safety risks, Sidmouth Lions Club has had to cancel all its usual pre-Christmas Santa activities for this year.
However, we are hopeful that local youngsters and their families will still be able to enjoy a HAPPY CHRISTMAS and a HEALTHY NEW YEAR.
Despite the pandemic, Sidmouth Lions Club is still endeavoring to support the local community and charities, where and when it is possible and safe to do so.
HOPEFULLY BY EARLY 2021, LIFE WILL BE BACK TO NORMAL .......... BUT IN THE MEANTIME WE TRUST THAT ALL OUR SUPPORTERS, FRIENDS AND LOCAL RESIDENTS WILL STAY SAFE AND KEEP FIT AND WELL.
---
A.J.'s BIG BAND
FRIDAY 22nd MAY 2020 - A.J.'s BIG BAND - CONCERT CANCELLED DUE TO CORONAVIRUS
Concert at Manor Pavilion Theatre to celebrate and commemorate VE Day, 75 years ago.
Music Director Ken Parr, together with some of the West Country's top musicians, plus songstress, Paula Mitchell, will be performing a musical tribute to those who gave us the freedom we now enjoy.
This highly acclaimed seventeen piece band, now into its thirty fourth year, has always been closely associated with the unforgettable arrangements and songs of the Thirties and Forties - music that helped to prop up morale during the war-torn years.
This special 75th Anniversary concert, which is sponsored by Sidmouth Lions Club, will start at 7.45 pm and will be primarily in aid of SSAFA, the Armed Forces welfare charity. Early booking is recommended.
Tickets £16 from the Theatre Box Office (01395 514413), open 10 am to 2 pm Monday to Saturday, in Manor Road,
Sidmouth EX10 8RP.
---
SATURDAY 23rd MAY 2020 - SIDMOUTH LIONS GREAT BOOK SALE - CANCELLED DUE TO CORONAVIRUS
Book Sale at St Teresa's Church Hall, Vicarage Road, Sidmouth EX10 8TW, from 9.30am to 12.00noon.
HUNDREDS OF GOOD BOOKS plus DVDs & CDs and a CAKES STALL. Entrance 50p includes a cup of coffee/tea.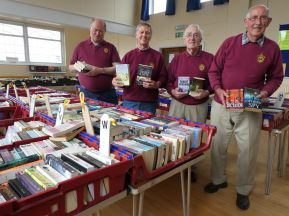 ---
SATURDAY 22nd FEBRUARY 2020 at 7.45 pm - SIDMOUTH TOWN BAND
& GUEST ARTISTES IN CHARITY CONCERT AT SIDMOUTH'S MANOR PAVILION THEATRE.

A great programme of popular, traditional and classical instrumental music performed by Sidmouth Town Band's superb award winning musicians, interspersed with musical performances by talented Guest Artistes, the Indigo Saxophone Quartet. This concert was in aid of the Sidmouth Town Band and Sidmouth Lions Club's charity and community service activities.
The Indigo Saxophone Quartet was formed in 2018, when four East Devon players chose to focus on harmonic arrangements for all the saxes, across several genres. Their sets cover jazz and blues standards, ragtime and more.
---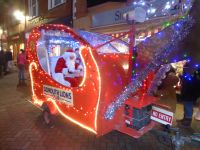 FOR SIDMOUTH LIONS CLUB'S SANTA ACTIVITIES IN DECEMBER 2019 - See Santa's schedule and routes in our 'Latest News' dropdown sub-page.
---
SATURDAY 23rd NOVEMBER 2019 - SIDMOUTH LIONS LADIES' CHRISTMAS FAYRE
10.00 am - 12 noon at Methodist Church Hall, just off High Street Sidmouth EX10 8LE.

This annual Fayre comprises stalls selling Gifts, Crafts, Cakes, Jams & Preserves, Toys, good quality Books, Jigsaw puzzles, Bric-a-brac, etc. There is also a raffle draw! Entrance fee of £1.50 includes a cup of coffee/tea and a mince pie!
---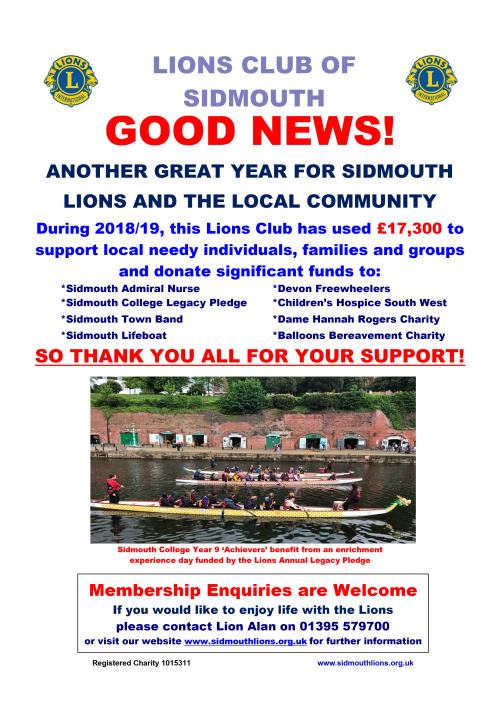 ---
SUNDAY 21st JULY 2019 - SIDMOUTH LIONS GREAT DUCK DERBY on the River Sid in the Byes, Sidmouth from 2.00pm to about 4.30pm.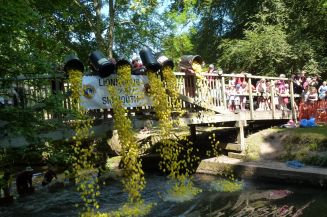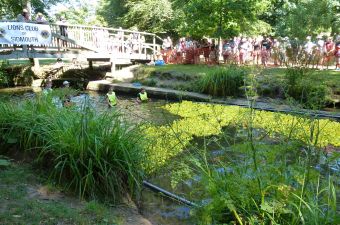 The 'Duck Derby' consists of two large Duck races on the River Sid, plus additional attractions for children, including Duck & Spoon races, other fun games, a Big Slide and Bouncy Castle and tasty
ice creams.
The races are started in the Lawn Vista cycle bridge area and commence at 2.00 pm with the children's Duck & Spoon races. These will be followed at 2.45 pm by the Corporate Duck Race, for the red ducks sponsored by local businesses. The main public Duck Race starts at 3.00 pm when hundreds of little yellow ducks are launched into the Sid from the cycle bridge, to race downstream to the finish line by the weir at Salcombe Road.
This year's main charity beneficiaries from the Main Duck Race were Exeter, East & Mid Devon Samaritans and Devon Air Ambulance Trust, which each received donations of £1,300 Overall, including the Corporate Duck Race, our 2019 Duck Derby event raised £5,200 for charity.
---
SATURDAY 15th JUNE 2019 - SIDMOUTH LIONS GREAT BOOK SALE
at St Teresa's Church Hall, Vicarage Road, Sidmouth EX10 8TW, from 9.30am to 12.00noon.
HUNDREDS OF GOOD BOOKS plus DVDs & CDs and a CAKES STALL. Entrance 50p includes a cup of coffee/tea.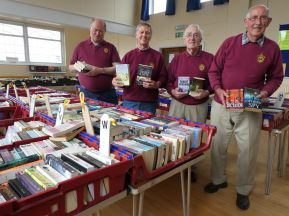 ---
FRIDAY 31st MAY 2019 - LET'S DANCE!
MANOR PAVILION THEATRE, Manor Road, Sidmouth EX10 8RP.
A lively evening of Pop, Rock, Soul, Rhythm & Blues from the 50s, 60's and 70s to make you want to get up and dance - and you did!
The 14-strong SIDMOUTH UKULELE BAND played Beatles, Beach Boys, Herman's Hermits, Bill Haley and more. QUANTUM5 consists of a vocalist and four musicians who played great Rhythm & Blues, Soul, Rock and Pop music and regularly perform at the Belmont Hotel, Sidmouth.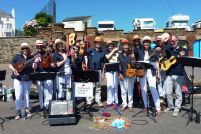 ---
Sidmouth Lions Club Legacy Pledge 2019
In 2016 to mark their 40th Anniversary, the Sidmouth Lions Club launched a Sidmouth College Annual Pledge to donate around £1000 each year towards activities to improve the personal development of students.
For the past 2 years, the College has used the pledge to reward 50 students in Year 9, who achieved the highest number of praise points, with a trip to Haven Banks in Exeter. As part of the day, youngsters learn about team building and leaderships skills through a series of activities including archery and raft building. They then competed in dragon boat races down the River Exe, to end the day.
This year the College was delighted to receive this kind donation of £1228 from the Lions Club and plans to reward the current year 9s with a similar reward trip in the Summer Term. Vice Principal Jim Ingham-Hill said: "As a college, we are delighted and honoured to have had the chance to work alongside the Lions Club for a third year in a row as part of the Legacy project. We hope this partnership will continue and ensure that hundreds of Sidmouth College students are given the opportunity to take part in an exciting enrichment opportunity."
Alex Blyth, Sidmouth Lions Club President said: "Since its inception Sidmouth Lions Club has favoured supporting worthwhile youth projects. This Legacy project has clearly demonstrated how young people can be incentivised and benefit from the project." College Principal Sarah Parsons said: "It is such a fantastic community link that the College have with the Lions Club, I would like to thank them for their continued support."
---

From Monday 3rd to Thursday 20th December 2018, SIDMOUTH LIONS' SANTA with his splendid sleigh and team of Lion helpers, toured Sidmouth, Sidford, Sidbury and Newton Poppleford.

SATURDAY 26th MAY 2018
CITY STEAM JAZZ BAND plus VICKI CAMPBELL & FRIENDS
at Manor Pavilion Theatre, Manor Road Sidmouth EX10 8RP.
Multi-talented singers Vicki Campbell, Nikki Mae Butcher, Matt Colson and David Finlay initially performed a variety of show-stopping solos and duets from hit Musicals. The second half featured the popular 6-piece City Steam Jazz Band, which plays jazz ranging from 20's-30's New Orleans style to more modern ballads, blues and Latin numbers.
Tickets were £12 from Theatre Box Office (01395 514413) from 10am to 2pm, Monday to Saturday.
GIFT AIDED DONATIONS TO SIDMOUTH LIONS
The Lions Club of Sidmouth is a Registered Charity - No. 1015311
If income tax paying members of the public wish to make Gift Aided donations to Sidmouth Lions charity activities, they should contact Lion Chris Rignall, Tel. 01395 577450, for more information. Gift Aided charitable donations can usually be enhanced by as much as 25% with a tax rebate claim made by the charity.