Some of our current and previous year's fundraising events:
SUNDAY 12th SEPTEMBER 2021 - SIDMOUTH LIONS GREAT DUCK DERBY
on the River Sid in the Byes, Sidmouth EX10 8PR, from 2.15pm to about 4.30pm.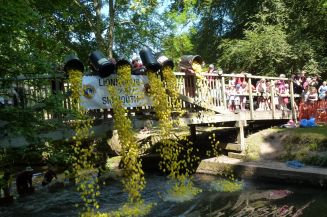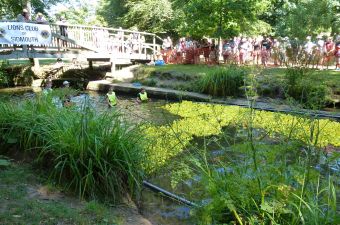 The main charity beneficiaries of this year's event will be:
Devon Air Ambulance Trust and Sidmouth Lions Club Charity services
The races will start by the Lawn Vista Cycle Bridge and commence at 2.15 pm with the children's
Duck & Spoon races. These races will be followed at 3.00 pm by the main yellow Duck Race, which will start at 3.00 pm, when hundreds of little yellow ducks will be launched into the Sid from the cycle bridge, to race downstream to the finish line by the big weir just before Salcombe Road.
The 'owner' of each of the first nineteen winning ducks to cross the finishing line by the big weir near Salcombe Road, will receive a cash prize from a total of over £1,000 of prizes,ranging from a £400 1st prize down to £20!
Duck tickets at £1 each are on sale in advance of Duck Derby day at Lions stands and several shops around Sidmouth.
Sidmouth Lions will be selling tickets from Tuesdays to Saturdays at stands outside/adjacent to the following Sidmouth shops:
- Coastline Mobility: 10 am - 3 pm approx. from 16th - 21st August.
- Co-op store: 10 am - 5 pm approx. from 24th August - 11th September.
- Cornish Bakery: 10 am to early pm from 24th August - 11th September.
- Lidl store: 10 am to early pm, only on Saturdays 28th August and 4th & 11th September.
Also, there are three shops now selling tickets on behalf of the Lions and these are:
Paper Moon at 38 Fore Street (opposite 'Boots'), Cards @ 83 in the High Street (by Lloyds pharmacy) and Woolbrook News in Woolbrook.
NOTE: In 2019, main charity beneficiaries from the Main Duck Race were Exeter, East & Mid Devon Samaritans and Devon Air Ambulance Trust, which each received donations of £1,300. Overall, including a Corporate Duck Race for local business organisations, our 2019 Duck Derby event raised £5,200 for charity.
---
AS A CONSEQUENCE OF THE COVID-19 PANDEMIC AND HEALTH & SAFETY CONSIDERATIONS, MOST OF THE CLUB'S FUNDRAISING EVENTS FROM MARCH 2020 TO JULY 2021 HAD TO BE CANCELLED.
Despite the pandemic, Sidmouth Lions Club has endeavored to continue to support the local community and charities, where and when it was possible and safe to do so.
In the 12 months ending on 30th June 2021, Sidmouth Lions Club donated
over £6,300 to support worthwhile charity causes including those in need!
---
A.J.'s BIG BAND
FRIDAY 22nd MAY 2020 - A.J.'s BIG BAND - CONCERT CANCELLED DUE TO CORONAVIRUS
---
SATURDAY 23rd MAY 2020 - SIDMOUTH LIONS GREAT BOOK SALE - CANCELLED DUE TO CORONAVIRUS
Book Sale at St Teresa's Church Hall, Vicarage Road, Sidmouth EX10 8TW, from 9.30am to 12.00noon.
HUNDREDS OF GOOD BOOKS plus DVDs & CDs and a CAKES STALL. Entrance 50p includes a cup of coffee/tea.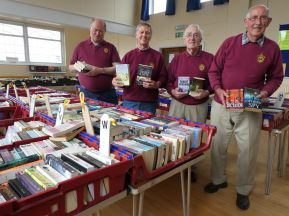 ---
SATURDAY 22nd FEBRUARY 2020 at 7.45 pm - SIDMOUTH TOWN BAND
& GUEST ARTISTES IN CHARITY CONCERT AT SIDMOUTH'S MANOR PAVILION THEATRE.

A great programme of popular, traditional and classical instrumental music was performed by Sidmouth Town Band's superb award winning musicians, interspersed with musical performances by talented Guest Artistes, the Indigo Saxophone Quartet. This concert was in aid of the Sidmouth Town Band and Sidmouth Lions Club's charity and community service activities.
The Indigo Saxophone Quartet was formed in 2018, when four East Devon players chose to focus on harmonic arrangements for all the saxes, across several genres. Their sets cover jazz and blues standards, ragtime and more.
---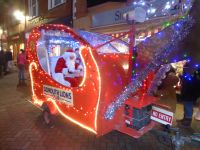 FOR SIDMOUTH LIONS CLUB'S SANTA ACTIVITIES IN DECEMBER 2019 - See Santa's schedule and routes in the 'Latest News' drop-down sub-page.
---
SATURDAY 23rd NOVEMBER 2019 - SIDMOUTH LIONS LADIES' CHRISTMAS FAYRE
10.00 am - 12 noon at Methodist Church Hall, just off High Street Sidmouth EX10 8LE.

This annual Fayre comprises stalls selling Gifts, Crafts, Cakes, Jams & Preserves, Toys, good quality Books, Jigsaw puzzles, Bric-a-brac, etc. There is also a raffle draw! Entrance fee of £1.50 includes a cup of coffee/tea and a mince pie!
---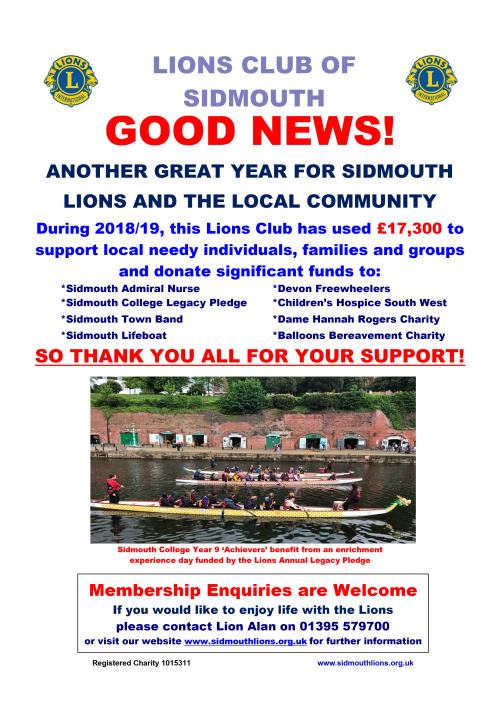 ---
FRIDAY 31st MAY 2019 - LET'S DANCE!
MANOR PAVILION THEATRE, Manor Road, Sidmouth EX10 8RP.
A lively evening of Pop, Rock, Soul, Rhythm & Blues from the 50s, 60's and 70s to make you want to get up and dance - and you did!
The 14-strong SIDMOUTH UKULELE BAND played Beatles, Beach Boys, Herman's Hermits, Bill Haley and more. QUANTUM5 consists of a vocalist and four musicians who played great Rhythm & Blues, Soul, Rock and Pop music and regularly perform at the Belmont Hotel, Sidmouth.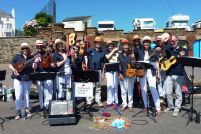 ---
Sidmouth Lions Club Legacy Pledge 2019
In 2016 to mark their 40th Anniversary, the Sidmouth Lions Club launched a Sidmouth College Annual Pledge to donate around £1000 each year towards activities to improve the personal development of students.
In the recent past, the College has used the pledge to reward 50 students in Year 9, who achieved the highest number of praise points, with a trip to Haven Banks in Exeter. As part of the day, youngsters learn about team building and leaderships skills through a series of activities including archery and raft building. They then competed in dragon boat races down the River Exe, to end the day.
This year the College was delighted to receive this kind donation of £1228 from the Lions Club and plans to reward the current year 9s with a similar reward trip in the Summer Term. Vice Principal Jim Ingham-Hill said: "As a college, we are delighted and honoured to have had the chance to work alongside the Lions Club for a third year in a row as part of the Legacy project. We hope this partnership will continue and ensure that hundreds of Sidmouth College students are given the opportunity to take part in an exciting enrichment opportunity."
Alex Blyth, Sidmouth Lions Club President said: "Since its inception Sidmouth Lions Club has favoured supporting worthwhile youth projects. This Legacy project has clearly demonstrated how young people can be incentivised and benefit from the project." College Principal Sarah Parsons said: "It is such a fantastic community link that the College have with the Lions Club, I would like to thank them for their continued support."
---
GIFT AIDED DONATIONS TO SIDMOUTH LIONS
The Lions Club of Sidmouth is a Registered Charity - No. 1015311
If income tax paying members of the public wish to make Gift Aided donations to Sidmouth Lions charity activities, they should contact Lion Chris Rignall, Tel. 01395 577450, for more information. Gift Aided charitable donations can usually be enhanced by as much as 25% with a tax rebate claim made by the charity.