SIDMOUTH LIONS - SANTA ACTIVITIES IN DECEMBER 2023
Please select LATEST NEWS drop-down tab for full details of our Santa Activities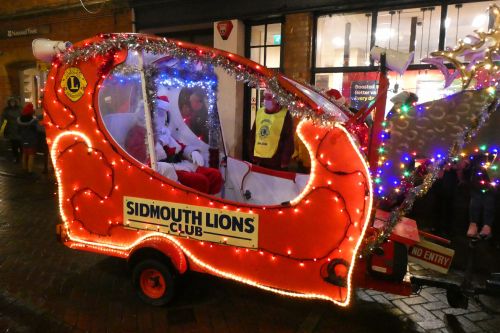 -------------------------------------------------------------------------------------------
THURSDAY 30th NOVEMBER - CHARITY RACE NIGHT
You are invited to bring your friends along for a fun evening at the Balfour Arms, 26 Woolbrook Road, Sidmouth EX10 9UZ.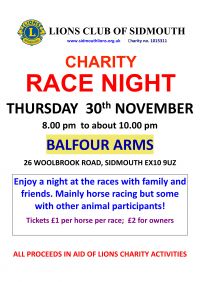 ---------------------------------------------------------------------------------------
SATURDAY OCTOBER 14
SIDMOUTH LIONS CLUB's BOOK SALE at St Teresa's Church Hall, Vicarage Road, Sidmouth EX10 8TW, from 9.30am to 12.00 noon.
THIS EVENT RAISED £640 FOR CHARITY SO MANY THANKS TO ALL WHO SUPPORTED IT. All proceeds were in aid of the Lions Club charity activities.

__________________________________________
SIDMOUTH LIONS DUCK DERBY - 16th JULY 2023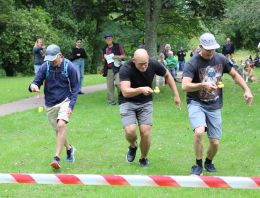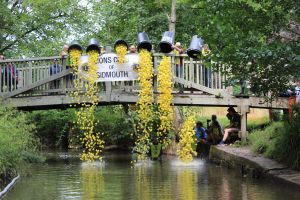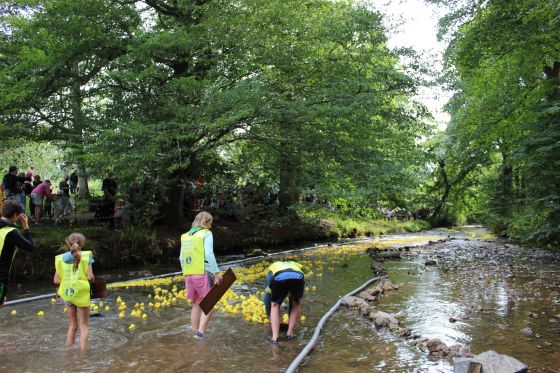 LITTLE DUCKS HELP SIDMOUTH LIONS RAISE OVER £2,000 FOR CHARITY
The event commenced at 2.15 pm, when children and their parents gathered near the Byes Cycle Bridge for the Lions special 'Duck & Spoon' races. These fun races featured children in various age ranges from two to 11 years old, followed by races for mums, dads, and finally for fit grandparents. The races were very competitive and the entrants were enthusiastically cheered on by family and friends!
The main yellow Duck Race started at 3.00 pm from the Byes Cycle Bridge with a countdown and launching by the Lions of several thousand little yellow ducks into the River Sid, watched by the crowd of children and adults on the river banks. A few of the ducks needed some 'egging on' by Sidmouth College students and Sid Vale Scouts helpers but, once mobilised, the leading ducks didn't take very long to complete the river course downstream to the finish line, just before the big weir by Salcombe Road bridge.

The yellow duck tickets cost £1 each and gave the 'owners' of the winning ducks the chance of a prize from over £1,000 of cash prizes.
However the biggest winners at Sidmouth Lions Duck Derby are the charities that receive donations from the net proceeds of the main yellow Duck Race. This year the two charities were The Guide Dogs for the Blind Association, which received a cheque for £1,300, and Sidmouth Lions Club Charity account which received the balance of the net proceeds. The Guide Dogs cheque was presented by Lion President Graham Rossiter, accompanied by Lions Chris & Trevor, to Krissie Isaac, the Guide Dogs South West representative, who was accompanied by several local Guide Dog volunteers and guide dogs.
Sidmouth Lions have thanked supporters of this year's Duck Derby, especially the local Co-op store, Coastline Mobility and local Lidl store for allowing the Lions to sell Duck tickets outside their premises; also the proprietors of 'Paper Moon', 'Cards@ 83' and 'Woolbrook News' for selling the Duck tickets in their shops.
Thanks also to those who helped on Duck Derby day, especially Sidmouth College students, Sid Vale Scouts and the two St John Ambulance first-aiders. The Taste of Sidmouth ice-creams proved popular, and Taste kindly donated their net proceeds to the charities .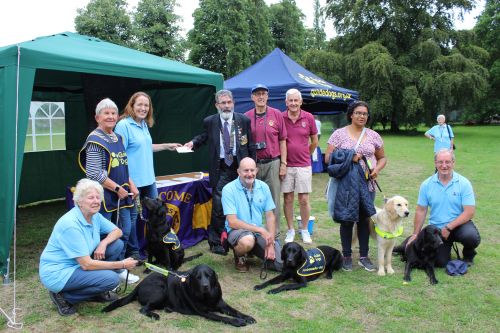 --------------------------------
---
SATURDAY 18th FEBRUARY 2023
SIDMOUTH TOWN BAND & SPECIAL GUEST MUSICIAN CHARITY CONCERT
AT SIDMOUTH'S MANOR PAVILION THEATRE, EX10 8RP
We shook off the the Winter blues and enjoyed a lively and delightful evening of popular, traditional and classical instrumental music, performed by Sidmouth Town Band's superb award winning musicians, under the direction of MD Adrian Harvey. Special guest was acclaimed musician, composer and singer Chris Hoban.

This concert was in aid of Sidmouth Town Band and Sidmouth Lions Club's Charity & Community Services.
Thanks to the dedication and hard work of both the band and Musical Director Adrian Harvey over the past decade, Sidmouth Town Band is now one of the leading bands in the South West. In addition to competing in contests throughout the year, it has weekly summer concerts in Connaught Gardens in Sidmouth and regularly performs at charity concerts and a variety of civic events.
Chris Hoban, is currently Director of Music at St Peter's Prep School, Lympstone, while also working freelance as a composer and performer. He is a highly regarded songwriter and lyricist who often writes for (and sometimes performs with) the Devonian folk roots duo 'Show of Hands', as well as performing live in venues and festivals throughout the UK, accompanying himself on guitar, piano accordion, mandocello, cello or keyboard. Chris is also an outstanding conductor and choral leader, having directed choirs in concerts and church services all over Britain.
---
SIDMOUTH LIONS SANTA ACTIVITIES - CHRISTMAS 2022
From 2nd to 21st December, between 5pm and 8pm, Santa with his splendid sleigh and team of Sidmouth Lions helpers, toured Sidmouth, Sidford and Newton Poppleford and to see lots of children with their parents.
Santa and a Sidmouth Lion helper also visited Waitrose store in Sidmouth from 12th-16th December.
We are very grateful to all those who kindly donated money during these activities and all the proceeds will be used for Sidmouth Lions Club's community service and charity activities.
Sidmouth Lions also thank Hall & Scott Estate Agents in Ottery St Mary, for sponsoring the operating costs of the Santa sleigh; also Central Garage, Sidford, for providing the towing vehicle.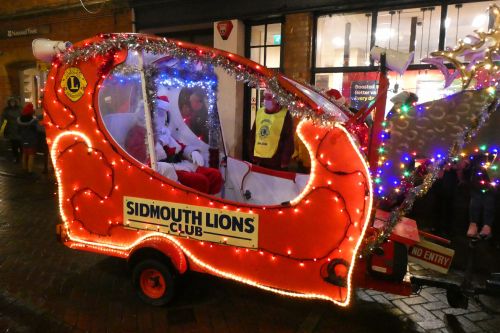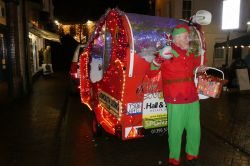 _______________________________________________________________________________________________________

SIDMOUTH LIONS CLUB'S GREAT DUCK DERBY RAISED OVER £4,400 THIS YEAR FOR LOCAL CHARITIES
OUT OF RESPECT FOR HER MAJESTY QUEEN ELIZABETH II, SIDMOUTH LIONS CLUB'S 2022 DUCK DERBY EVENT WAS POSTPONED TO 16th OCTOBER
This event had been due to take place on Sunday 18th September 2022, i.e. the day before the State Funeral.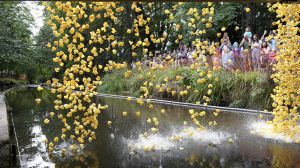 As usual, the Duck Derby event took place in The Byes, Sidmouth, with thousands of little yellow and red ducks racing down the River Sid from the Lawn Vista Cycle Bridge to the finish near the big weir by the Salcombe Road entrance to The Byes. The two duck races were preceded by our traditional Children's Duck & Spoon races, which started 2.00 pm.
The Corporate Duck Race, which features little red ducks, started at 2.45 pm.
The main (yellow) Duck Race, started at 2.45 pm and was primarily in aid off Children's Hospice South West and Devon Freewheelers and these two charities each received donations of £1,300.
The Corporate Duck Race's little red ducks are sponsored by local business organisations for a minimum donation of £5 per duck. The 'owners' of the three winning red ducks are each invited to choose a local, humanitarian charity to receive their winnings.
This year's £1,000 1st prize was won by Branscombe Campsite, whose proprietors chose to give £500 to Devon Air Ambulance Trust and £500 to SSAFA, the service families support charity. The 2nd prize of £500 was won by Willow Framing who chose Sidmouth Hospice at Home to receive its winnings; 3rd prize winner Sid Valley Country Hotel also chose Sidmouth Hospice at Home to receive its £300 prize money.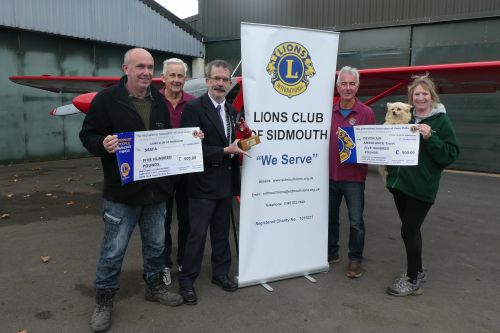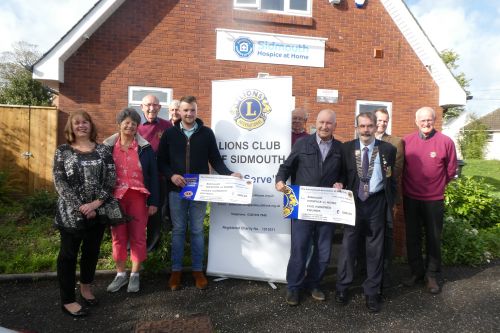 _________________________________________________________________________________________________________________
UKRAINE REFUGEE CRISIS APPEAL
ON SATURDAY 28th MAY SIDMOUTH LIONS held a 'COFFEE & CAKES' at the Methodist Church Hall in Sidmouth High Street. This event was in aid of Sidmouth Lions Ukraine Crisis Appeal and donations can still be made by cash/cheque or you can boost the value of your donation by 25% by using the GiftAid facility on Sidmouth Lions JustGiving webpage:

---
FRIDAY 6th MAY 2022 - A.J.'s BIG BAND MADE A WELCOME RETURN TO SIDMOUTH


This special concert featured the ever popular A.J's 17-piece band playing a packed two-set programme of classic arrangements from the golden years of the big bands. The show also introduced the band's exciting new vocalist Jaqs Price-Hughes, with memorable songs of that era. A superb musical event from the South West's premier big band, now into it's thirty-fifth year, with all proceeds going to Sidmouth Lions charity activities. Many thanks to all who supported this event and enjoyed the brilliant music making!
---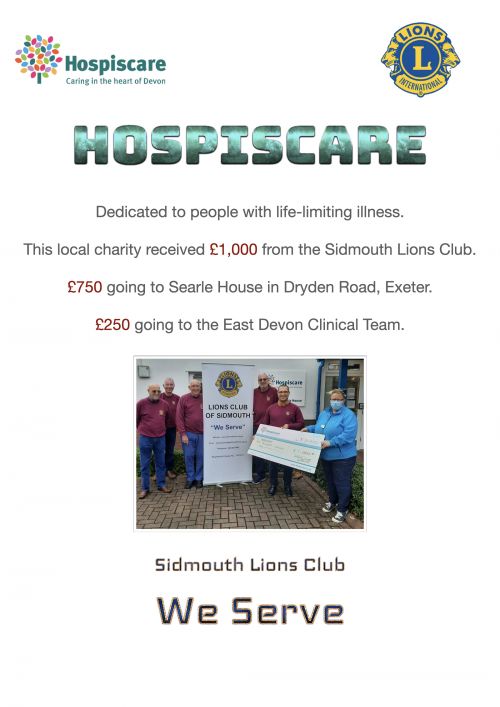 25th FEBRUARY 2022
SIDMOUTH TOWN BAND & GUEST ARTISTES IN CHARITY CONCERT AT
SIDMOUTH'S MANOR PAVILION THEATRE.
A delightful evening of popular, traditional and classical instrumental music was performed by Sidmouth Town Band's superb award winning musicians under the expert direction of Adrian Harvey.
Guest musicians were the Seagrass Trio, a guitar, ukulele and drums trio, playing their own original material and covers adapted to suit the three instrument line up.
This concert was held in aid of the Sidmouth Town Band and Sidmouth Lions Club's Charity and Community Service activities.
£1,222 was raised by the event and shared by the two charities - so a very big thank-you to all those of you who supported the event!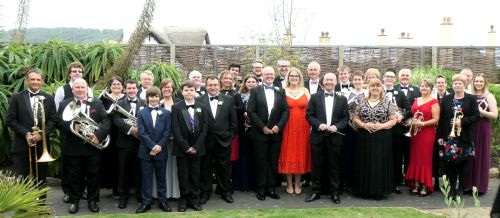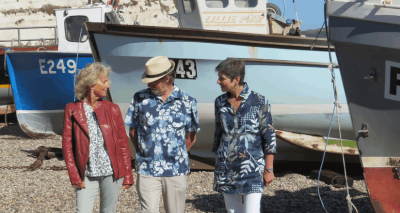 SIDMOUTH LIONS SANTA ACTIVITIES - DECEMBER 2021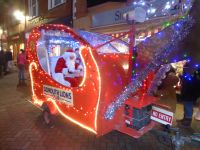 Despite the pandemic, Sidmouth Lions Club is delighted to report that Santa, with his splendid sleigh and team of helpers had a joyful time from 3rd to 17th December touring around the Sid Valley and Newton Poppleford and seeing many young children with their parents.
On 8 days during the same period, Santa and his elf helper also visited Waitrose store at Stowford, so many thanks to Waitrose management for their help and support.
Thanks to the generosity of the local community, all these Santa activities have raised the magnificent sum of £4,500 for Sidmouth Lions Club's community service and charity activities.
Sidmouth Lions are also very grateful to Hall & Scott Estate Agents for their helpful donation towards the operating costs of the Santa sleigh; thanks also to Central Garage, Sidford, for providing the towing vehicle for the sleigh.

---
SUNDAY 12th SEPTEMBER 2021 - SIDMOUTH LIONS GREAT DUCK DERBY
On the River Sid in the Byes, Sidmouth EX10 8PR, from 2.15pm to about 4.30pm.
The main charity beneficiaries of this year's event were:
Devon Air Ambulance Trust and Sidmouth Lions Club Charity services
The 'owner' of each of the first nineteen winning ducks to cross the finishing line by the big weir near Salcombe Road, won a cash prize from a total of over £1,000 of prizes, ranging from a £400 1st prize down to £20!
Please see ACTIVITIES REPORT web page for report and photos.
---
Despite the pandemic, Sidmouth Lions Club continued to support the local community and charities, where and when it was possible and safe to do so.
In the 12 months ending on 30th June 2021, Sidmouth Lions Club donated over £6,300 to support worthwhile charity causes including those in need!
---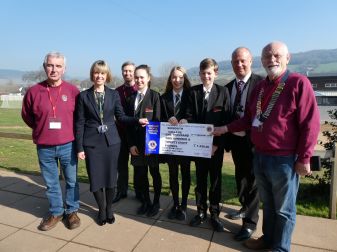 Sidmouth Lions Club Legacy Pledge

In 2016 to mark their 40th Anniversary, the Sidmouth Lions Club launched a Sidmouth College Annual Pledge to donate around £1000 each year towards activities to improve the personal development of students.
In the recent past, the College has used the pledge to reward 50 students in Year 9, who achieved the highest number of praise points, with a trip to Haven Banks in Exeter. As part of the day, youngsters learn about team building and leaderships skills through a series of activities including archery and raft building. They have also competed in dragon boat races down the River Exe.
On receiving the Lions donation in 2019, College Vice Principal Jim Ingham-Hill said: "As a college, we are delighted and honoured to have had the chance to work alongside the Lions Club for a third year in a row as part of the Legacy project. We hope this partnership will continue and ensure that hundreds of Sidmouth College students are given the opportunity to take part in an exciting enrichment opportunity."
Alex Blyth, Sidmouth Lions Club President for that year, said: "Since its inception Sidmouth Lions Club has favoured supporting worthwhile youth projects. This Legacy project has clearly demonstrated how young people can be incentivised and benefit from the project." College Principal Sarah Parsons said: "It is such a fantastic community link that the College has with the Lions Club, I would like to thank them for their continued support."