The Flappers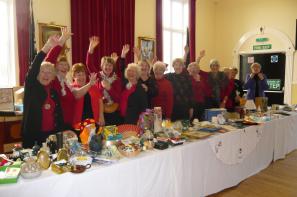 The Flappers are the (F)riends of (L)ions (P)ast and (P)resent. They are the wives or partners of members of the Lions Club of Sidmouth.
The Flappers make a great contribution to the fundraising events of the Club by making cakes and serving coffee / tea at the Book Sales - and assisting with Children's events at the annual Duck Derby.
They also prepare and serve food at the Christmas Social for the older or disabled members of the community - and at the Sidmouth Lions Club's end-of-year Handover social, and the Lions' post Duck Derby barbecue.
Each year, the Flappers hold a Christmas Festive Fayre, at which lots of interesting items and cakes are on sale.
In short, the Flappers make an invaluable contribution to the Sidmouth Lions Club.
They also find time to have a monthly social evening - usually on the third Monday of each month.