Easter Draws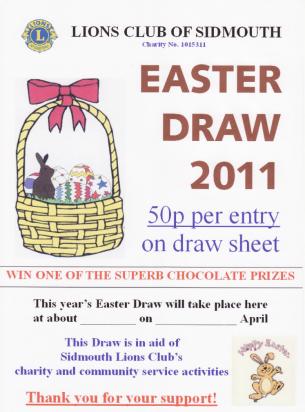 During March and April, as has come to be something of a tradition, members of Sidmouth Lions Club visited a selection of hotels in Sidmouth, and pubs in Sidmouth, Sidford and Tipton St. John, with Draw Entry Sheets for the Easter Draws.
As always, we were struck by the amazing generosity of both residents of the Sid Valley and also those visiting the area, in contributing to the Easter Draws.
Thank you very much to all those who joined in the fun and purchased draw entries, and so have helped us to raise money for worthy causes.
Sincere thanks also to all of the establishments who gladly allowed us to sell draw tickets at their hotel or pub, and thus assisted the Sidmouth Lions charity and community service activities.
Hotels and pubs etc. where the Draw entries were sold this year include:
Anchor Inn, Sidmouth
Blue Ball, Sidford
Dukes, Sidmouth
Elizabeth and Kingswood & Devoran Hotels
The Golden Lion at Tipton St. John
Details of the other charities who will benefit from the Easter Draws will be shown here soon.