Great Book Sales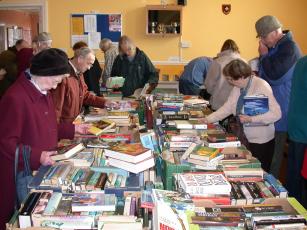 Once again, we had the loyal support of many residents of the Sidmouth area, and also visitors to the area, for our Great Book Sale in March. A small queue formed before opening time, and, shortly after that, there was a lovely relaxed atmosphere, with people browsing for books and the coffee bar tables full with people having a chat or looking at their chosen books, whilst enjoying a coffee and biscuits.
In no time at all, it seemed that most of the cakes made by the Flappers had been purchased. Some visitors to the sale were seen with large bundles of books, so they obviously found what they were looking for. We have a wide selection of paperbacks and hardback novels, and also a range of non-fiction, such as books on gardening, cookery, sport, travel, and biographical books. In addition, there are specialist books, such as encyclopaedias, books on painters, and older books - and we have CD's and DVD's.. There is also a section for children's books.
During the morning, we not only sold a large number of books, but also gratefully received further books for sale from people bringing them along to the sale. Our thanks go to all the many people who have donated books to us, to those who attended the Book Sale.
Our Great Book Sales take place approximately quarterly - see 'Events' page for exact dates and venues for future sales. We look forward to seeing you there!