Jazz concert - 24 February 2011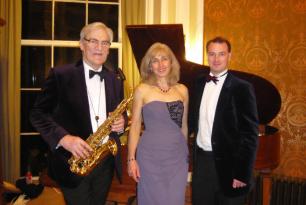 There we were, Little Jazz Birds, in the beautiful splendour of the Music Room at the Sidholme Hotel in Sidmouth - feet tapping, fingers strumming, heads sometimes swaying from side to side - and heads sometimes looking up as the syncopated rhythms of the music - now haunting, then compelling, always demanding attention - rose up past the chandeliers to the enchanting domed and painted ceiling. Music from another era in a setting from another era - and it was all just perfect.
Then the song was about us - George Gershwin's seldom played "Little Jazz Bird". And we had to agree absolutely with the lyrics - "And I'm sure you'll agree that a little jazz bird is the only kind of bird to be"- especially when we were being entertained by the extremely capable and enjoyable Music Deco.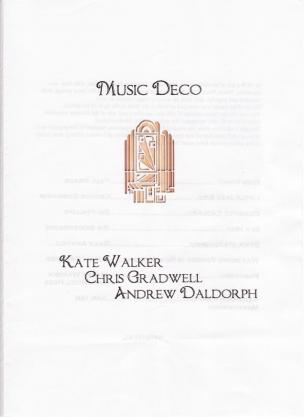 Music Deco is a group of three talented artists who have come together to play jazz in the style of the 1930's - Chris Gradwell (saxophone and clarinet); Andrew Daldorph (piano); and Kate Walker (vocals). Chris was a member of a previous Music Deco trio that enjoyed a lot of success on tour in the period from 1979. More recently, Chris and Andrew have been performing classical and jazz music together for eight years, and a chance meeting between Chris, Andrew and Kate, at a concert where they were all performing, led to the re-formation of Music Deco.
Well, we are very glad that that chance meeting took place - the result is a trio who are clearly very enthusiastic about their music and are first rate performers - and they gave us a wide and interesting variety of numbers in the style of the 1930's which was a joy to hear.
In "Pasadena" we went on a train journey - we could clearly hear the train start off and whistle - and then during the journey we were treated to a wonderful description in music of the joys of Pasadena - until, at the end, the train gradually came to a gentle stop. A fabulous expression of this in music.
Another favourite was Andrew's piano solo - Duke Ellington's "Do nothing 'til you hear from me". We could only wonder at Andrew's marvellous ability to play the piano so well, at all of the intricate improvisations, and at the energy of the performance. Amazing.
By contrast, "Lush Life", for example, was a slow tempo number of lost love and loneliness, full of emotion and with beautiful musical phrasing. Kate's singing throughout was fabulous, strong when she needed to be, and always a joy to hear. Chris' mastery of the saxophone and clarinet was very evident, particularly in one of the numbers which provided extremely quick and intricate musical phrases for the saxophone. In another number, Chris demonstrated to us "bending the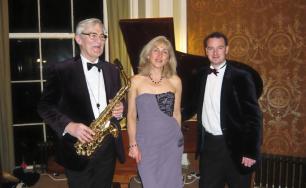 notes" on the saxophone, where one note smoothly and seamlessly becomes another one. It was a privilege to be entertained by this talented trio, and we hope that we might get the chance to hear them again at some point in the future.
Perhaps one of the more unusual numbers of the evening was "The Waltz" - effectively like a short story set to music, about the thoughts and apparent mixed emotions of a young lady who was asked to dance - did she want to dance, or didn't she? - was she enjoying the dance, or perhaps she hated it? - did that clash of feet hurt, or was it really OK? - did she long for the dance to go on, or did she want it to end there and then?
Many thanks to Chris, Andrew and Kate, to Wally Cotgrave who organised the concert, to the Sidholme Hotel, and to all of those who attended. There was hardly a spare seat to be found, so Thank you very much.
We understand that a donation will be made from the concert to the funds of the Lions Club of Sidmouth, so we are very grateful for that. Many thanks.